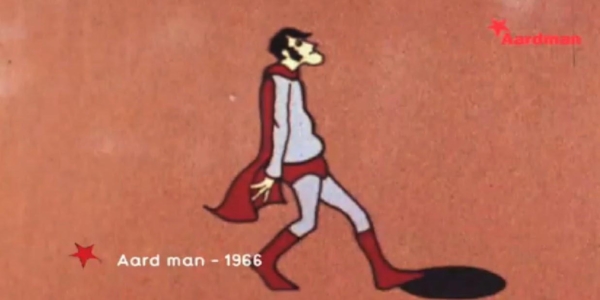 Named after one of their earliest characters, (the cell animated superhero that appeared on the BBC show 'Vision On' in 1972), Peter Lord and David Sproxton created Aardman, an animation company that would begin a journey that embraces a love of comedy, storytelling and above all characters.
It's been a long time since 'Vision On' aired and since then Aardman have brought the world countless comedy sketches, hundreds of lovable characters and award-winning films and TV shows for all generations to enjoy. Inherently known for creating the world's most famous claymation man and his dog, Aardman do so much more than you might think. They are pioneering new stories in VR worlds, creating apps, games and even theme park experiences. Aardman have perfected a wide-range of creative techniques to bring their iconic characters to life on multiple platforms.
DFS
In 'The Big Sofa Test', the latest DFS campaign directed by Jay Grace, Aardman transform their real life employees into handmade lifelike fabric figures.
These vibrant characters are brought to life with core metal frames and different fabrics; each model took over five weeks to make and took six months in total. The film draws attention to the hard-working employees at DFS who share a tactile art that parallels the studio's handmade precision. The employees recorded their voices to lay over the animation, a style reminiscent of Nick Park's 'Creature Comforts'.
Animation for purpose
What makes Aardman really stand out is that they create animation that changes the way we think and feel about the world.
Directed by Åsa Lucander, 'Santa Forgot' is the powerful and emotive animated campaign for Alzheimer's Research UK (ARUK), which imagines a world where Santa Claus has lost his memory. The film's central character is Freya, a young girl who travels far and wide to help her hero. She's a character that guides, teaches, and finds a special place in our hearts:
V-Aar
When it comes to virtual reality, Aardman are leading the way in immersive storytelling. To think the 'Earthman,' or 'Aard-man', has made it to this stage of technology from once a time of just sticks and stones, now being entirely immersed in a virtual world that someone else has created, is equally amazing as it is terrifying. But, if there's ever a world we want to be immersed in, one where we are sure to have an incredible experience, it's one designed by Aardman!
Aardman's recent interactive production 'We Wait', directed by Darren Dubicki and Dan Efergan, depicts migrants making the journey from Turkey to Greece on Smugglers boats. Free to download on Oculus, you are surrounded by a community of migrants, each with a their own urgent and heart-breaking story:
The project's Producer, Ben Curtis says: "Storytelling is about capturing the imagination and leading people through a journey." The team immersed themselves in migrant stories captured from BBC worldwide archives, before infusing them in the fragile character designs and the result is an interactive journey that incites deep emotional engagement.
It marks just the beginning of Aardman's relationship with VR - a journey that is now seeing more well-known characters popping up in virtual worlds. Fan favourite Shaun the Sheep and all of his buddies can now be found in a fully interactive space. 'Shaun's Movie Barn' is a 360° movie theatre that lets users watch the best Shaun the Sheep antics, and share the fun with friends from the comfort of their own hay stack.
Visualise This
Combining obsessive attention to detail, revolutionary creativity, genuinely hilarious stories and scenarios and driven by the need to save audiences from a sea of mediocre movies, Aardman are nothing short of modern day superheroes.
'Visualise This', created by director Danny Capozzi, is a visually eclectic short film that takes a light swipe at those brain-draining 'characters' you can find at the other end of a creative client calls.
Finally, we'll leave you with the new trailer for Early Man, due for theatrical release in early 2018. See you there.
Lemonade represents Aardman for commercial, content and interactive work in London and the rest of the UK.